The School of Public Affairs offers an international exchange program for MPA and MPP students to study at the Hertie School in Berlin, Germany for one semester.
The next exchange program takes place in the Fall 2022 semester. The application deadline is April 1, 2022. To talk with Janet Nagler, the program advisor, please contact Johan Hernandez at johan@american.edu to schedule an appointment.
An information session on the program will be scheduled in November 2021.
Email the following application documents to Janet Nagler jnagler@american.edu.
Resume
Letter of Motivation (indicate your grades, commitment, and enthusiasm)
Unofficial copy of AU transcript
If applicable, TOEFL scores required unless student earned an undergraduate degree at an American institution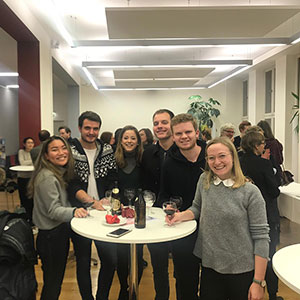 Ting Han, SPA/MPP '19
"My time spent at the Hertie School in Berlin was easily one of the most rewarding experiences in my life. In addition to having internationally renowned faculty, Hertie regularly hosts lectures and events with decision-makers from key government agencies and think-tanks around the world. The school also introduced me to the most diverse and dynamic student body I've ever met. I thoroughly enjoyed working with my classmates and made some lifelong friends. I am actually going back to Berlin in June to celebrate their graduation from Hertie! Berlin itself is also just an amazingly historic and vibrant city, offering countless activities and opportunities for no matter what your interest is. So to anyone who is considering spending a semester at the Hertie School, I would say do it!"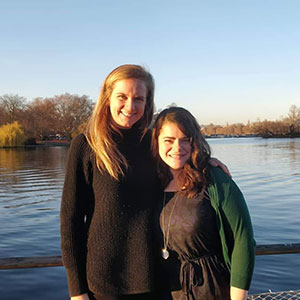 Samantha Pedreiro, SPA/MPA '19
For anybody even remotely considering spending the semester at the Hertie School in Berlin, I have one piece of enthusiastic advice: Go! While I am tremendously grateful and excited by all of the wonderful experiences on campus--including attending events with incredible speakers, taking part in hands-on training programs (like the Campaign Management Institute), and participating in internships--there is nothing like studying abroad. Studying abroad allows you to experience a new culture, befriend people from around the world, challenge your beliefs, and grow as a person.
Caroline White, SPA/MPA '19
Attending the Hertie School of Governance in Berlin was one of the most impactful experiences I had while at American University. I could not be more grateful for the opportunity to immerse myself in another culture, learning and engaging with peers not only from Germany, but from all over the world. While at Hertie I studied topical issues related to my concentration in international management, from how NGOs operate on the international stage, to the impact of the migrant and refugee crisis in Europe and beyond. I highly recommend the experience from an academic and personal perspective.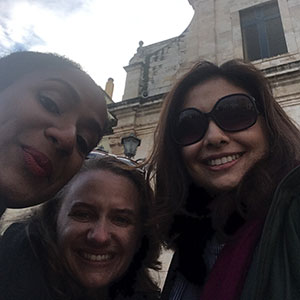 Sarah Evans, SPA/MPA '19
Studying at Hertie was a unique opportunity to study public policy issues from an international perspective and learn from and with students from all over the world. My coursework challenged me to think critically about what influences our policy problems and solutions and how they differ from the challenges faced and opportunities available in other countries. Outside the classroom, I loved having the opportunity to explore Berlin, Germany, and Europe -- new places were just a short train or plane ride away with friends from Hertie ready to buy a cheap ticket and go!
Photo caption: Sarah Evans, center, with Hertie friends on a trip to Italy.